Global Doctors Emergency Medical Ambulance Service (EMAS) managed by Global Doctors is the first of its kind in Malaysia with a fully integrated EMS system, following international guidelines and protocols.
Developed to efficiently respond to emergency distress calls. The Global Doctors Command Centre is fully equipped with state of the art facilities including Global Positioning System (GPS) and Advanced Vehicle Locating System (AVLS). Here at our Command Centre, we utilize the Sentinel programme, a specially formulated computer aided despatch programme and trained medical emergency despatchers who have undergone intensive training on medical triage and despatch and are ever ready to provide immediate prioritization for any emergency situation.
Our team of trained paramedics are certified and accredited to follow international best practices and standards. Global Doctors Rescue team are guided and trained by professional instructors carefully chosen to bring out the best in our team and to ensure that the best EMS practices have been adhered to.
The Global Doctors fleet uses the state of the art equipment and reputable vehicles specially designed with internal safety features that abide to world safety standards. Developed to be more than just a scoop-and-run ambulance, the Global Doctors ambulance is fully equipped to provide pre-hospital, emergency medical response and treatment on-board. Its ergonomically designed interior promises not only patient safety but also a pleasant and comfortable ride to the hospital.
Comprehensive Emergency Medical Response Services
24 hour medical consultation services through our hotline
Emergency Medical Assistance, Planning, Evacuation & Retrieval Services (Marathon, Treasure Hunt, Sports, etc)
Non-Emergency Patient Transfer
Interfacility Intensive Care patient transport
HeartSave Environment Planning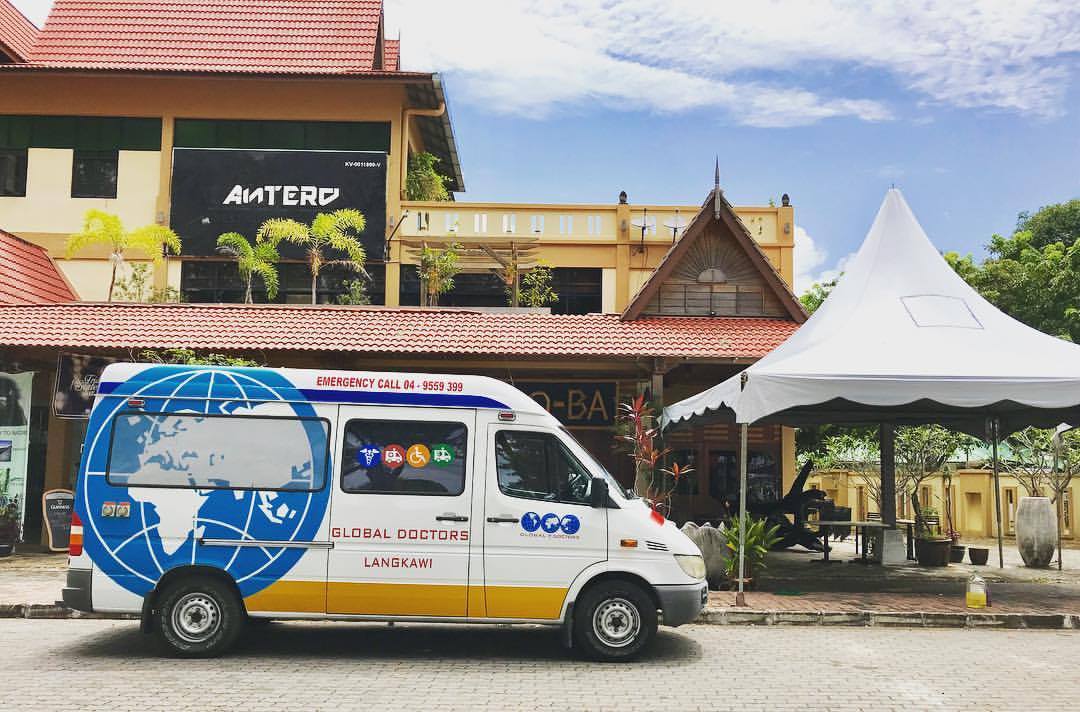 For emergencies in Malaysia and China only

Global Doctors Hospital
No. 18, Jalan Kiara 3
Mont Kiara 50480, Kuala Lumpur
Tel: +603 2303 9911
Fax: +603 6203 0673
Operating Hours
Monday – Saturday : 9am–9pm
Closed Sundays & Public holidays
Global Doctors International Medical Clinic
B3-05, Global Doctors Centre,
Bayu Walk, Jalan Kiara 2, Mont Kiara
50480 Kuala Lumpur
Tel: +603 2303 9999
Fax: +603 6203 3957
Operating Hours
Monday – Saturday : 8am – 9pm
Sundays & Public holidays : 9am – 3pm
Global Doctors Medical Clinic
Level B1, Global Doctors Hospital
No. 18 Jalan Kiara 3, Mont Kiara
50480 Kuala Lumpur
Tel: +603 2303 9977
Fax: +603 6204 0100
Operating Hours
24 hours
Global Doctors Clinic Langkawi
Meritus Pelangi Resort, Jalan Pantai Chenang, 07000 Langkawi Kedah
Tel: +604 955 9399
Fax: +604 955 7399
Operating Hours
Monday – Saturday : 9am – 9pm
Sundays & Public holidays : 9am – 3pm
TGGD Setia Alam
Top Glove Tower
No. 16, Persiaran Setia Dagang
Shah Alam, Malaysia
Tel: +603 5886 9999 / 9996
Operating Hours
Chengdu, Szechuan Province
Room 9-12, 2nd floor, South entrance, Lippo tower No.62 North Kehua Road, Chengdu, Sichuan Province
Tel: +86 (28) 8528 3660 / 8528 3638
Emergency: +86 139 8225 6966 (24 hrs) 
Operating Hours
Monday – Friday : 9am–6pm
Saturday : 9am-5pm
Global Doctor Chongqing Medical Center
Suit 2, 3F, No. 343, JinKai Avenue, Liangjiang New Area, Chongqing
Tel: +86 (23)6308 5550
E-mail: chongqing@globaldoctor.com.cn
Operating Hours
Monday – Friday : 9am–6pm
Saturday : 9am-5pm
Global Doctor Xi'an Medical Center
8F, Yongli International Financial Centre, JinYe 1st Road, Hi-tech Zone, Xi'an

Tel: +86 (29) 8111 2673 
Emergency: +86 173 9175 7290 (24 hrs)
Operating Hours
Monday – Saturday : 9am–6pm
 
Global Doctor Dongguan International Medical Center
Room 401-402, 4th Floor, Business Building Block C3, Greenland Center Plaza, No.998 Honggu Middle Road, Honggutan New District, Nanchang City, Jiangxi Province
Tel: (0791) 8882 3567
Emergency: 180 0071 6209 (24 hrs)
Operating Hours
Monday – Saturday : 9am–6pm
 
Global Doctor Nanjing Jianye Medical Center
No.283, Shui ximen Avenue, Jianye District, Nanjing
Tel: +86 (25) 8651 9991
E-mail: nanjing@globaldoctor.com.cn
Operating Hours
Monday – Saturday : 9am–6pm

Global Doctor Nanjing Xianlin Medical Center
B1 Yadong Plaza,No.12 Xianyin North Road, Qixia District, Nanjing, Jiangsu
Tel: +86 25 8662 8386 
E-mail: nanjingxl@globaldoctor.com.cn
Operating Hours
Monday – Saturday : 9am–6pm

Global Doctor Clinic Jakarta
Jalan Kayu Manis 21a
Condet – Balekambang
Jakarta Timur 13530
Indonesia
Tel +62-21-800-4307
Operating Hours
Monday – Friday : 8am – 5pm
Closed on weekends & Public holidays
Global Doctor Bangkok
Ground Floor, Holiday Inn Hotel, Silom
981 Silom Road Bangkok 10500
Tel: +66 2236 8442; +66 2236 8443; +66 2236 8444 (24 hrs)
Fax: +66 236 8445
gdbkk@globaldoctorclinic.com
Operating Hours
Monday – Friday : 9am – 5pm
Saturday : 9am – 1pm
Closed on Sundays & Public holidays